Amp up your senses and stimulate your listening enjoyment to a whole new level with Rhythm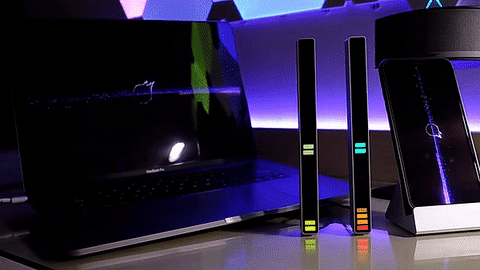 ✅ Visually enhance your music and create the atmosphere you want.
✅ Reduce stress and increase mental acuity.
✅ Built-in highly sensitive microphone activates Rhythm by voice or by any speaker such as phones, radios or TV's.
✅ Great for in the car, holidays, birthdays, parties, gatherings, stages/DJ events, gaming, watching TV and as a desktop/table decoration.
✅ Built with LED lighting so they will never overheat or be hot to the touch.
✅ Variety of white or black plastic, silver or black metallic with options of plug in or rechargeable power.
✅ Control each light bar either by push buttons or with an app (metallic versions only).
✅ 32 colorful lamp beads with 8 display modes, 4 levels of brightness, 5 speeds and 18 color modes.
✅ With the exclusive intelligent de-noising algorithm, Rhythm can be used anywhere including noisy environments.
Each package includes:
1x Rhythm Light
1x Plastic base
4x Transparent double-sided tape
1x Micro-USB power cord
1X manual