Never Run Out of Propane Again!
Are you cooking out and suddenly run out of propane?
Need an emergency grilling hook ups?
Looking for Safest and Easy to refill in seconds with NO TOOLS required?
No Need to worry, introducing this Propane Refill Adapter to the Rescue! A Must-Have for Survivalist, Hikers, Outdoor Enthusiast, Tailgaters, Campers, Fishermans, Hunters, Handyman and anyone that cooks on a small grill!
FEATURES:
SAFETY-

Built-in safety feature that will ensure you never over-fill your smaller tank. Well- constructed, built Heavier, Bigger and Safer. Cuts off gas flow automatically when pressure is reached ( rubber ring allows proper seal)

EASY TO INSTALL -

No other tools required and easy to install with hand heel grip for tightening.

REFILL EASILY -

Fits all 1 lb propane grill cylinder bottles and fills easily and quickly.

CORROSION RESISTANT - 100% solid brass construction that provides a secure and airtight connection for your security.
STURDY AND DURABLE - Made of brass to ensure a long product lifetime as well as durability under constant usage.
GREAT FOR -

Camping, tailgating, heating needs, cooking outdoor and much more!
**CAUTION**
Due to the highly flammable gases, you MUST be outdoors to refill your 1 lb cylinder tank. Stay clear of flames and sparks.
For maximum filling, place your cylinder tank in the freezer for up to 30 mins before filling it.
Put your empty 1 lb cylinders in a freezer for a couple of hours.
Attach the coupler to your 5lb to 50 lb propane tank.
Attach your 1 lb. tank (fresh from the freezer) to the adapter.
Pick up your large tank and turn it upside down and rest it securely on the corner of your picnic table.
Open the propane valve and shut it off when the flow of liquid propane stops.
Turn everything right side up and remove the 1 lb. cylinder.
Repeat as necessary.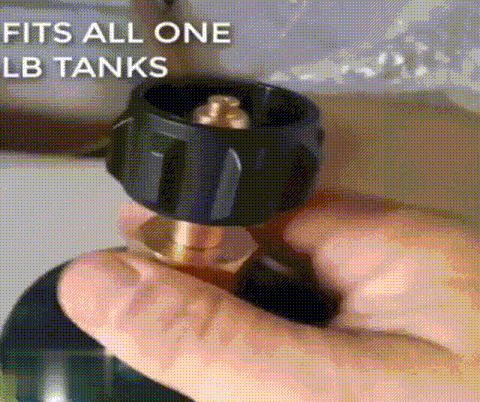 NOTE:
1:You need to turn your bulk tank upside down so liquid flows out of it.
2:You need to chill your empty tanks so that there is a lower vapor pressure in the empty tank than the bulk tank.
3:Your refilled tanks will not be totally full, but this is good because over filling can cause them to vent gas if left in a hot place.
PACKAGE INCLUDES:
1 * Propane Refill Adapter